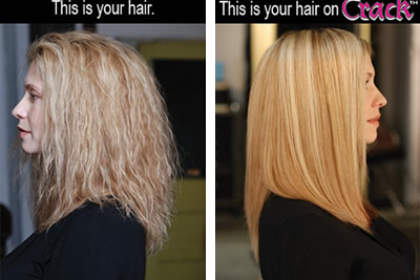 Let's face it, if you live in the Midwest, this past week has been hot and sticky and (although we like it better than winter). And with heat and humidity, not only is your makeup melting, but your hair is starting to get frizzy and curly.
If you notice that your style is only lasting the first few hours of the day due to the hot, sticky temperatures, Crack Hair Treatment is just the fix you've been waiting for.
While other frizz-busting products only mask the signs of dry, frizzy hair, Crack Hair Fix actually works as a treatment. It has been praised in Allure and Beauty Launchpad magazine and is a staple for stylists across the country.
How Does it Work? 
Packed with micro proteins and peptides, Crack envelopes each hair cuticle with a keratinous bond that blocks 95% of frizz and curl. This powerful cocktail of proteins and peptides also heals dry, split end prone hair.
Benefits of Crack Hair Treatment:
UVA/UVB protection

lightweight, moisturizing treatment

Acts as a thermal protectant (Great for use with Ergo tools)

Won't leave hair oily/no product build-up

Adds a healthy shine to dry hair

Effectively conceals split ends

Tames frizz and curl all day long
Crack Hair Treament is an excellent product for any client because it both works as a styling aid and also a leave-in conditioner. To order Crack for your salon, call us at 847-741-5000.