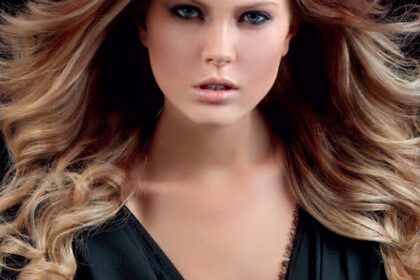 She by SO.CAP.USA has unveiled hot Ombre extensions featuring a natural sun effect called, "shatush"!
For a trend that appeared to start out as a boycott on regularly addressing ones roots, Ombre is looking set to become one of the defining 'hair looks' of 2013. In response, She by SO.CAP.USA, who also have an eye on trend, were inspired to launch a new series of their popular hair extensions: the Shatush Effect Series. These redesigned ombre series feature a new, "shatush" (ombre) effect: natural looking sun streaks that mimic color kissed by the light. The new Shatush Effect Series of 100% European-type extensions are available in 12 shades of keratin pre-tipped hair extensions, wefts, and clip-ins. Now, you can not only add volume and density with hair extensions, but also color dimension!
Ombre started life as a technique in Hollywood salons in the 1970's, but was eclipsed in popularity by highlighting and full head colour methods. Over the next few years, the Ombre look subsequently became a slow burn which ignited over the past two years and re-emerged as a popular celebrity trend sported by Sarah Jessica Parker and numerous other A-listers.
Part of Ombre's appeal is that is an incredibly low maintenance color effect. More importantly, there are less issues with the colour technique clashing with skin tone and personal coloring as the hair around the face is the natural shade, which (by default) always suits. Therefore, people tend to feel comfortable with the result.
For clients who want wearability without commitment, color without stressing the hair, and hair that can be changes as easily as their outfit… She by SO.CAP.USA's extensions work perfectly. The new Shatush Effect Series offers a new dimensional effect previously only achievable with traditional haircolor.
See Nicholas French demonstrating the new Shatush Effect Ombre Series at Trend Command 6 on June 10th! Click here to learn more here.