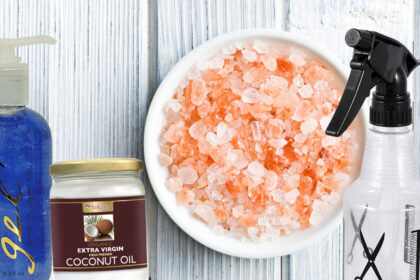 ALL-NUTRIENT STYLE RECIPE: BEACH TEXTURIZING SPRAY
On both guys and gals…nothing looks better than the kind of wild, hyper-textured you only get after a day at the beach. The sea salt and sun combine to create loose, carefree waves that just don't happen anywhere else. There are lots of off the shelf products you can use to recreate this look in-salon…but it's actually incredibly easy to mix yourself and then be able to recreate the effect in salon or at home!
WHAT YOU NEED:
An empty spray bottle, sea salt (Himalayan Salt works best), coconut oil (or any oil of your choice), All-Nutrient Organics Gel+, measuring cup and teaspoon.
1: Fill a spray bottle with 1 teaspoon of sea salt. We recommend Himalayan Sea Salt, which is finely ground and contains a high amount of natural minerals.
2: Next add ½ teaspoon of coconut oil. You can use virtually any kind of oil…however coconut oil is reminiscent of the beach and is also loaded with nutrients. If coconut oil isn't your thing…merely substitute for another.
3: Lastly add ½ teaspoon of All-Nutrient Organics Gel+. This is just for hold to keep the wavy texture to stay in place throughout the day. For increased hold…just increase the amount of gel to your mixture.
4: Close the spray bottle and shake vigorously. Spray it on damp or dry hair and scrunch the hair up towards the head to create waves. The next day, before each application, just shake the spray bottle vigorously again as the mixture will separate if sitting for a while.
Done! Beach hair without the beach!