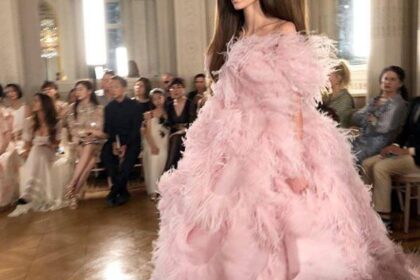 Last Thursday night in Paris, Valentino's latest collection was presented for Fall/Winter 2018/2019. What got photographs camera snapping however was model Kaia Gerber who stepped out with a massive bouffant created by Guido Palau, that was teased out, brushed back and smoother to a super shiny finish.
The look was classically retro with a modern day twist, that is a throwback to a style created for Marie Antoinette but modernized by Raymond ("Teasy-Weasy") Bessone in the mid-fifties, the bouffant has been favored by mythical creatures from Jackie O to Brigitte Bardot, its proportions even subtly reinterpreted in the decadent va-va-voom 1980s by a young Cindy Crawford.
Fast forward to 2018's Valentino show and it offered a form of chic grandeur as sweeping and dramatic as Piccioli's lavish capes and floor-dusting jewel-tone dresses. All it took was one glance at girl-of-the-moment Kaia Gerber to understand its transformative effects: with her deep chestnut hair pulled back to reveal chiseled cheekbones and a swan-like neck hovering above a swirling storm of pink feathers, the result was sheer runway magic.