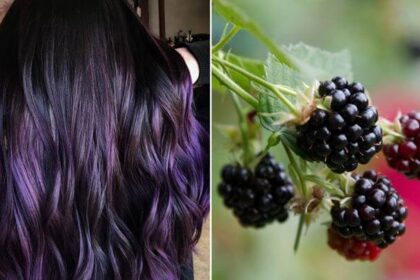 Rockville, Maryland based hairstylist Megan Schipani created a new haircolor trend inspired by blackberries! Schipani is no stranger to creating food-related hair colors, she was the colorist behind the peanut butter- and jelly-inspired hair color on Instagram a few months ago.
"My client came in telling me that she was a busy mom who needed low-maintenance color that was still fun. The day before her appointment, I had received a few packages of a new direct-dye line and knowing that my client was in the market for purples, it just clicked," Schipani told Allure magazine.
Though she considers the end result of this look to be low maintenance, the technique to achieve it wasn't. Schipani spent around eight hours lightening her client's hair with a balayage technique, making sure to lighten only the strands that would be covered in purple. Once she created the perfect level 8 blonde-balayage base, she applied Purple color with a hint of Blue over the blonde.