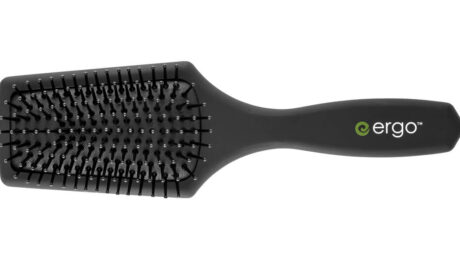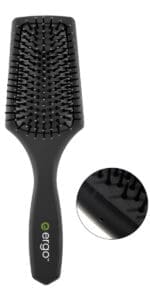 ERGO's family of hair brushes is growing…again! Launching this month is the new ERGO Diamond Head Brush™!
The unique shape of the Diamond Head Brush™ allows you to get into the nape, fringe area, and sides with ease. The brush has a longer handle for a better grip and is more ergonomic because it has a smaller contact surface that keeps your hands closer to the head for better control. It can fit in the palm of your hand!
Perfect for wrap drying, tighter formations of hair and men's grooming (and beards too). Use it for fast and effective styling on all hair types. Create straight-and sleek blow-dries; smooth hair into ponytails and updos.
Retail Price: $24.95 (contact us for salon pricing).
KEY FEATURES:
Its miniature size fits discretely into client's purse or bag.
Flexible cushion pad feels great on the scalp.
Heat resistant nylon pins infused with tourmaline for shiny humidity.
Resistant & longer lasting finish.
The addition of carbon to the pins prevents melting up to 500°F.
Soft touch silicone finish for total control even with wet hands.
Individually molded pins allow smooth movement through the hair.
Fast detangling when used vertically!
Built in water drain allows you to wash & disinfect while drying quickly.
Broad flat base ideal for styling large sections of hair.
Soft touch, non-slip finish handle.
Ergonomic design.
Handbag brush is perfect for 'on-the-go' grooming.