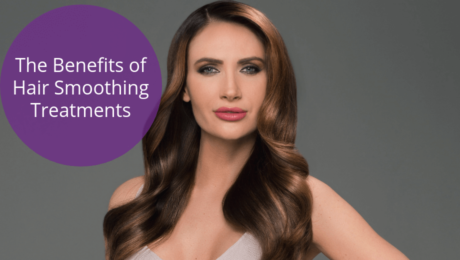 We have all seen the clients who abuse heat tools. The symptoms are all there: split ends. Frizzy hair. Dry and parched look. Over all lackluster appearance. And try as we might to convince them to slowly cut back their dependence on heat tools, they insist on doing it anyways.
For clients with frizzy, curly hair, going au naturale may put them outside of their comfort zone, thus their dependence on heat tools. This is where hair smoothing treatments come in – the only way to give your clients the smooth, sexy hair they have always wanted without the daily use and abuse of a flat iron. Find out the benefits of using a hair smoothing treatment in your salon:
Natural Keratin Based Technology – Hair smoothing treatments infuse hair with keratin, a naturally produced protein that is needed to keep hair healthy and shiny. Keratin fills in the ridges of the hair where it is brittle and cracked giving it a smooth appearance.
Safe for Color Treated Hair – In fact, keratin treatments are a great service to add to your client's color consultation to seal in the color.
They are Long Lasting – Keratin treatments last anywhere from 2 – 2 1/2 months depending on the hair type and how often hair is washed
Save your Clients Hours Everyday – For your clients with naturally curly hair they may be finding themselves battling with the flat iron in the morning and at night before going out. This can be frustrating and time-consuming. A simple keratin treatment only has to be performed a few times a year and will literally change their lives. Keratin treatments also dramatically reduce your blow drying time.
There are also a few considerations when getting this treatment done such as:
You can not wash your hair for a few days after the treatment
You should only use sulfate free shampoos and conditioners to make the treatment last longer
You must be careful to only select a hair smoothing treatment that is 100% formaldehyde free
For the safest, most effective hair smoothing treatment we recommend using All-Nutrient's Keratin+ Smoothing Treatment – the only 100% formaldehyde free keratin based service. All-Nutrient's Keratin+ uses a Cuticor Cellular MicropHusion System to heal porous hair to restore hair's original health. To find out more about this treatment call us today at 847-741-500 or visit us online.