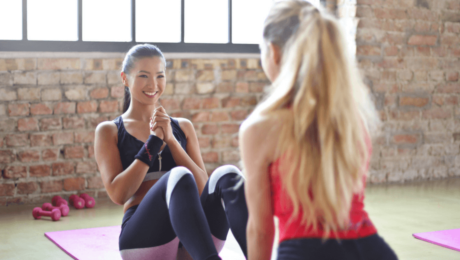 While women exercise they want their hair secure and out of their face. The hair is usually thrown in a bun or ponytail and off they go. It's also very likely that it's the same ponytail or bun every time… because humans are creatures of habit.
As a stylist, you are likely cringing at this point because you can begin to see the damage that can come while your clients get their calorie burn on.
Ask your clients about their hair routine while they exercise and turn it into an education on damage and prevention. Plus, I'm going to make this super easy for you by breaking it down into easily explainable chunks.
Let's begin with the damage talk. Explain to your client that hair cuticles are cells that overlap like fish scales. When the hair is healthy and smooth those scaly cells fit nicely on top of each other. When those cells don't lay smoothly it causes these 3 signs of damage.

Frizz – Dry and bleached hair is caused by exposure to UV light.
Split Ends – These unflattering ends are caused by too much sun exposure and sweat.
Breakage – Women who exercise a lot may find that their hair is breaking at the place their hair tie lies.
Now, onto the prevention part. Here are 5 things to share with your client to prevent damage to their hair while they exercise.
Wear your hair differently each time you workout. That way, you're not pulling at the same spot all the time, causing breakage.
Wearing your hair in a loose bun or braid to avoid matting and contact with sweaty skin. Tangles and sweat cause your hair to dry out.
Use hair ties made of ribbon or fabric. Saying no to elastic makes sure the hair isn't too tight.
Run early in the morning or late in the afternoon. This way you avoid the sun's most harmful UV rays.
Use a conditioning and/or keratin treatment occasionally to keep hair, hydrated and strong.
Lastly, you can use this prevention chat to pitch a hydration product or a smoothing service. By expressing what to look for and how to prevent damage, your exercising clients will thank you with their loyalty.