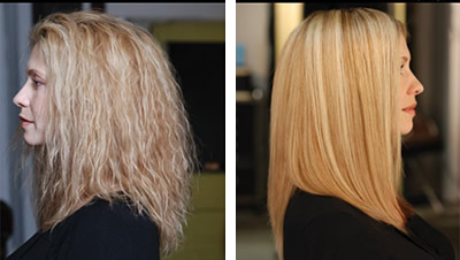 Let's face it, if you live in the Midwest, this past week has been hot and sticky and (although we like it better than winter). And with heat and humidity, not only is your makeup melting, but your hair is starting to get frizzy and curly.
If you notice that your style is only lasting the first few hours of the day due to the hot, sticky temperatures, Crack Hair Treatment is just the fix you've been waiting for.
While other frizz-busting products only mask the signs of dry, frizzy hair, Crack Hair Fix actually works as a treatment. It has been praised in Allure and Beauty Launchpad magazine and is a staple for stylists across the country.
How Does it Work? 
Packed with micro proteins and peptides, Crack envelopes each hair cuticle with a keratinous bond that blocks 95% of frizz and curl. This powerful cocktail of proteins and peptides also heals dry, split end prone hair.
Benefits of Crack Hair Treatment:
UVA/UVB protection

lightweight, moisturizing treatment

Acts as a thermal protectant (Great for use with Ergo tools)

Won't leave hair oily/no product build-up

Adds a healthy shine to dry hair

Effectively conceals split ends

Tames frizz and curl all day long
Crack Hair Treament is an excellent product for any client because it both works as a styling aid and also a leave-in conditioner. To order Crack for your salon, call us at 847-741-5000.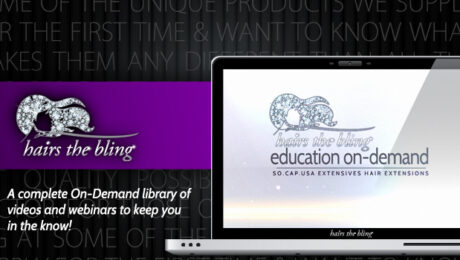 We are proud to announce the launch of our newly designed website!
Our goal kept YOU in mind. We wanted to provide you with an easier site to navigate with more interactive features, while still allowing you to register for upcoming classes and shop for your favorite products!
Here is the skinny about the new and improved hairsthebling.com:
What's New?
One of our favorite new features is Hair's the Bling TV – where you can go to watch our demos and media appearances. Many of our videos on Hair's the Bling TV features demos using the world-famous She by SO.CAP.USA hair extensions. This is a fantastic resource for you if you are considering receiving your certification or considering becoming a respected She by SO.CAP.USA salon!
We have also added a section for Hair's the Bling Latest Press. Our latest appearance was in Beauty Launchpad Magazine, featuring a wide variety of products we distribute such as Crack Hair Treatment, All-Nutrient Organic Hair Color, and She by SO.CAP.USA hair extensions.
We also wanted to make it easier for you to find a class that works best for your busy life which is why we added a downloadable course schedule for our upcoming hair color courses. Our hair color classes are available online or in the studio and cater to anyone from beginners to advanced colorists.
What's Stayed the Same?
We are still proud distributors of the following fine products:
– She by SO.CAP.USA hair extensions
– All-Nutrient Color and Hair Care Products
– Arigato Skincare & Fresh Face Collagen
– Crack Hair Treatment
– Ergo Professional Styling Tools
As you know we are committed to continuing education, which is why we offer ongoing classes across the Midwest and online. Our training classes cater to:
– Hair color mastery classes using All-Nutrient hair color
– She by SO.CAP.USA mastery and certification courses
Keep up to date on the latest news and events by registering for our newsletter today!