Tuesday, 12 November 2013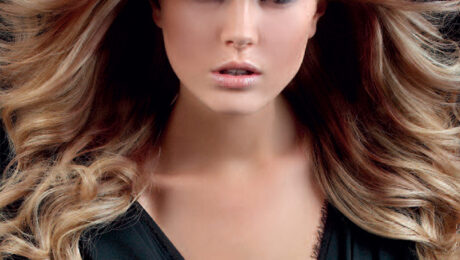 Recreate The Hottest Trends with Extensions!
To recreate some of the hottest looks on the red carpet and in fashion magazines now, you need She by SO.CAP.USA hair extensions. Available in full hair extensions, clip-in, and Extensives there is something for every level of maintenance.
Find out how you can recreate some of the hottest hairstyles today:
The Sleek & Sexy Ponytail
Gather hair into a ponytail and secure with a rubber band. Then, sink a small anchor (attached to the clip in ponytail) to the top of your ponytail and continue to wrap the extension around the ponytail. A single braided strand on the extension is used to wrap around the ponytail in place of a hair tie. Clip-in ponytails are available in straight and wavy styles and can be applied by a certified extensionist or at home by your client.
Shag Bangs
The She by SO.CAP.USA clip-in bangs uses 3 clips to gently attach to your hair. Clip-in bangs come in both shorter and longer styles depending on how your client wishes to frame her face.
Neon Hair
Use clip-in hair extensions (available in fantasy colors) to add a fun pop of color to your clients hair. This can be applied by you or your client. She by SO.CAP.USA Extensives are also a great way to achieve a more long lasting effect, but must be applied by a certified extensionist.
Ombre' Effect
Use clip-on hair extensions underneath the hair (of a slightly darker tone than your clients own color) to add a subtle hint of ombre that can be added and removed in just minutes. For more volume towards the crown, you can add warm fusion hair extensions that match your clients own hair.
To register for on of our upcoming hair extension trainings visit us online or call us at 800-279-4554 today!
Does it take your hair forever to grow, but you love that long, sexy beach hair?
Not all of us have the time and patience to wait years for our hair to grow. And there are better alternatives to waiting years to obtain the length and style you crave. 
Even after years, only a select few will ever be able to achieve hair with the natural volume and texture they desire.
With human hair extensions from She by SO.CAP.USA you will have the most natural-looking and longest lasting hair extensions on the market. Whether you want clip-in extensions for a special event or want extensions that last all summer long, SO.CAP.USA has just the option for you.
What many people don't know is that human hair extensions are actually extremely low maintenance (which is perfect for summer!). Unlike synthetic hair, human hair extensions can be styled (and even dyed) just like your own natural hair. Heat tools can even be used on your extensions to offer a wide array of styling options. 
Hair extensions are also great because they are no longer just for the rich and famous (although they are a must-have every year for the red carpet). Hair extensions are now more affordable than ever with a wide variety to choose from.
With She by SO.CAP.USA hair extensions, you can choose strands of hair discreetly bonded throughout your own hair or a full head of hair for the most luxurious, natural-looking style possible. She by SO.CAP.USA offers:
Extensives: Reusable hair extensions that can be applied is strips or strands
Full head extensions: Available in over 81 shades and 3 textures (straight, wavy, or curly)
Clip-In hair: Can be applied by anyone, on the go. Most affordable options
Clip-In ponytail or Bangs: Clips right into hair for an instant makeover!
For more information about She by SO.CAP.USA hair extensions, visit our website. Or if you are a stylist interested in hair extension certification, register online today!