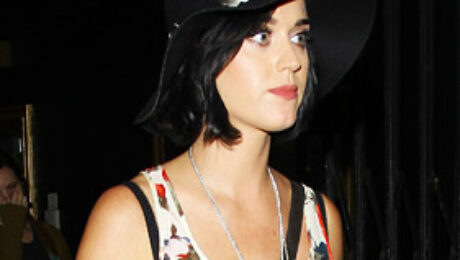 Spotted Monday in L.A. at an xx concert, Katy Perry had ditched her technicolor hair for her classic black. This past year we have seen her with every hair color imaginable from blonde, red, blue, pink, and the list goes on. Katy Perry was also seen with darker hair for her new ad campaign for Pop Chips.
In an interview with MTC earlier this year, Katy's stylist, Rita Hazan explained the sudden craze with unexpected hair color "Some of the '80s is back, those vibrant colors and neon colors. I think girls are a little more relaxed into bringing their inner self out, their inner crazy," she said. "It's not so structured, [like] you have to be pretty and fit into this mold. I love women embracing their inner crazy and making it work for them."
Hazan said, "There are no rules, and it doesn't seem like it's organized or styled. Each person has their own individual personality and they rock [it] and it works for them. It's nice to see women embracing themselves in that way."
Clip-in hair extensions are a great way for clients to express themselves (much as Katy Perry has been doing this past year) without the damage of dying their hair repeadetly. It also allows them to try out a neon or vibrant color without having to fully commit. Clip-in hair extensions by SO.CAP.USA can be applied by your client at home, removed at home, and resued at their leisure.
For more information about purchasing She by SO.CAP.USA hair extensions call us at 847-741-5000 or visit us online!
Photo: FameFlynet
Taylor Swift is known for her long, naturally curly hair…and its vibrant blonde color. Recently she decided to switch things up when she debuted a slightly darker hair color for her new Covergirl Campaign.
The 22 year old spoke of her recent transformation,"I think in life we have a bunch of different versions of ourselves and that goes with our personality and how we act around a friend, that's how we act in a job interview…it's all very different how we act. I think it's all equally different the way we choose to dress, the way we choose our makeup. The cool thing about makeup is that it can be so different on any given day." Apparently Ms. Swift is starting to feel the same way about her hair color! 
The last time we saw Taylor make a major hairstyle change was for the February 2012 cover of Vogue when she donned blunt-cut bangs. While this is not such a dramatic change in style, it certainly adds a rich sophistication to her look.
Going a few shades darker than your natural hair color is a great way to make a subtle statement without a major commitment. This can be done gradually with low-lights, or all at once with a single process color. To get the best looking results, we recommend using All-Nutrient organic hair color. All-Nutrient is known for keeping its color longer than any other dye on the market without all the added chemicals and preservatives.
To find out more about how All-Nutrient can benefit you, visit us online or follow us on Twitter/add us on Facebook today!