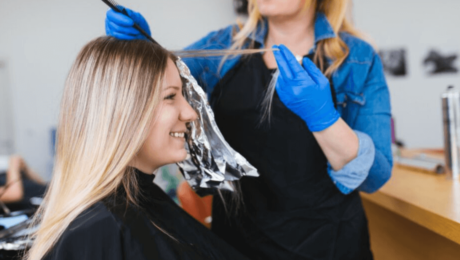 Strap in for this one and get your notepad ready!
With the release of the new Blue Base Developers from All-Nutrient, I've been getting calls with all sorts of questions. So, let's tackle them now with a bit of knowledge power!
Hair color developer is something I've been going on about for years. How much, how little, which one, which strength, do you leave it on this long, that long, does this give you lift, does that gives you coverage, what about for fun, what about for bleach, and on and on. How many conversations have you had about developer leading to confusion, frustration, success, and beauty with hair color?
So, why do we need developer?
Put simply, developer activates hair color. It also provides color formula consistency, easier application, color lightening, and longer-lasting color. Bottom line, it delivers color into the hair.
What is developer? What does it do?
You know that developer activates hair color and starts the oxidation process. You also likely know that developer opens the cuticle layer of the hair allowing the color to penetrate, lift, and/or deposit. But, do you really understand what that means?
Developer is a solution containing Hydrogen Peroxide. Hydrogen Peroxide is a mild antiseptic used on the skin to help prevent infection from minor cuts, scrapes, and burns. Thank you doctor, why do we care? What does that mean for hair color?
Well, ammonia is a compound of nitrogen and hydrogen. It's the main active ingredient in hair color. Hydrogen Peroxide is a compound of hydrogen and oxygen. Here is where the fun begins. When ammonia comes into contact with hydrogen peroxide, the peroxide starts decomposing the ammonia. This is what we know as the oxidation process.
During the oxidation process, oxygen is slowly released when ammonia breaks down in a series of micro-explosions. This softens the hair, allowing the cuticle to relax, open up and make room for the peroxide to get in and diffuse the natural melanin (pigment) in the hair.
It's the strength of the peroxide that dictates how much or little the melanin will diffuse. That is what determines how much lift or deposit will be achieved.
What makes developer so useful?
Developer comes in different percentage strengths of peroxide and this is where people start getting all kinds of confused.
Yes, any chemical service is going to create some level of damage but we can control how much damage is done by simply remembering the most important variables… texture, density, and porosity.
Developer mixed with permanent hair color is one thing and mixed with bleach is altogether different. We all know developer as volume, so below are how those different volumes go with permanent color.
10VOL
10VOL may give up to one level of lift.
It contains 3% peroxide.
It's supposed to develop for 20 – 25 minutes.
It does NOT have the ability to intensely activate ammonia.
It CAN'T really diffuse a lot of the natural melanin in the hair.
It results in not a lot of lift.
Any hair type is good for this type of strength.
It's really great for fine, soft, thin hair.
If the hair is in delicate to normal condition, this won't further destroy hair that much either.
In my opinion, if the hair is delicate, and/or if the hair is thin, fine, or soft, under these circumstances 10VOL will also open the cuticle enough to ensure proper unpigmented coverage. No one is afraid of this developer so that about covers it.
20VOL may give up to two levels of lift.
It contains 6% peroxide.
It's supposed to develop for 30 – 35 minutes.
It has a moderate ability to activate ammonia.
It evenly diffuses an amount of natural melanin in the hair.
The result becomes either a level or two of lift, a good amount of deposit.
It fully develops the pigment in hair color for the proper amount of unpigmented hair coverage by today's standards.
In my opinion, everyone is using this in the correct scenarios. The only issue is when people try to rush the timing. Leave it on for 30 – 35 minutes like it's supposed to and call it a day.
30VOL
30VOL may give up to three levels of lift.
It contains 9% peroxide.
It's supposed to develop for 40 – 45 minutes.
That means it has a strong ability to activate ammonia.
It results in lift and lightening of the hair at a level that is readily identifiable.
It's extremely popular amongst stylist. That is why so many formulas online and in social media are based on this developer strength.
I believe there is a huge disconnect between using this for lift with hair color vs using it in bleaches. We'll get to that in a minute.
40VOL may give up to four levels of lift.
It contains 12% peroxide.
It's supposed to develop for 50 – 55 minutes.
It has the maximum ability to activate ammonia.
It results in the most amount of lift with virtually no deposit.
It's my opinion, that there is a huge misunderstanding and disconnect when it comes to the subject of 40VOL developer. People think about developer as paired with bleach and get scared of using it with color. Plus, that same nervousness leads to not leaving the developer in long enough and the color turns out undeveloped.
Blue Developers
Now, in regards to the All-Nutrient Blue Developers, it's the same thing as far as timing, strength, and uses. The additional bonus is that it contains blue pigment which helps further control unwanted warmth. This is huge because there is a lot of unwanted warmth, especially when getting up into levels 7 and above.
A lot of stylists ask me if there is a significant difference in the amount of warmth that is cut out and the answer is absolutely yes! So much so that there it is a visual difference.
From a creative standpoint, the blue developers are so much fun! Let's say that you are using a warm tone color, gold, red, orange, copper, violet, eggplant, chocolate, caramel, tobacco, and any other that you are creating. The blue developer will enhance the depth, richness, and further push the tonal value of the color formula you are mixing.
This practically gives us an entirely new palette of colors to work with. It's awesome!
Bleach and Developer
In regards to bleach with developer, the major difference is that bleach will continue to work as long as there is moisture left for oxidation to occur. This is where everyone starts throwing in their own two cents about the process.
Developer with color is a timed process, it works for a certain amount of time and then it stops. The level of developer with the level of color indicates how much lift, tone, and time the process will take. With bleach however, there is no time limit. I believe this is where the misunderstanding and disconnect occurs.
The purpose of bleach is to diffuse and even remove pigment from the hair. The developer strength will dictate how long that process will take.
Look, I don't make the science, I'm just trying to explain why it works the way it does. That way, when you do decide to go outside of how it works you can understand why you got the result you did.
Let's say that we mix two formulas of bleach. One with 10VOL, the second with 40VOL. So long as that 10VOL formula doesn't dry out, it can sit for an hour and lift the hair to the same level of the 40VOL formula. This would take half the amount of time if not less.
What about the damage? My response is, what about it? Damage will occur under both circumstances. It's the same level of damage as long as you watch the timing.
Many stylists, tell me that they never use anything over 20VOL or 30VOL when bleaching because they worry the hair will break off. That is absolutely NOT TRUE!
The variable factor that always needs to be mentioned is texture, density, and porosity. Factoring that in determines which developer strength and how long bleach should be timed on the hair. That timing provides the desired lift result, not our personal fears and opinions.
Tips
I know I will get some comments for saying this but here we go. For thinner, softer, damaged hair, I agree that 10VOL would probably be the best way to go. But, does that mean it should sit on there for 30minutes? No! Remember, it needs to be closely monitored every few minutes because of that variable factor.
On the opposite end of the spectrum, clients that have thick, coarse, resistant, healthy hair will need to have at least 30VOL or 40VOL used. Especially if they have a darker natural color and/or if they want to be a lighter level.
As far as bleach goes, there are so many different kinds to use I should probably write an article dedicated to bleach alone. In regards to the All-Nutrient bleaches, there is white and blue-based bleach. They are both the same exact strength in regards to lifting power. The main difference is that the blue bleach has blue pigment which helps control warmth during the lifting process.
Creative Fun
Here's some creative fun. The white bleach mixed with blue developer will, in essence, create the equivalency of blue bleach with one exception. That exception… The blue developer mixing with white bleach enhances the whiteness of the bleach giving you an even brighter hi-light effect as an end result. For creative purposes, that's amazing!
The blue developer with the blue bleach gives another level of control when lifting that is extremely useful. Especially when trying to take someone from dark to light. Have NO Fear!
Developers Rock
At the end of the day, developers are very useful tools and should not be feared. With the way technology is these days, there is so much control and conditioning available in cream-based developers, that the hair feels better than when we started.
I'm sure there are still many more questions after reading this, and there is so much more I want to cover. But, this is an article and not a novel so stay tuned for more.