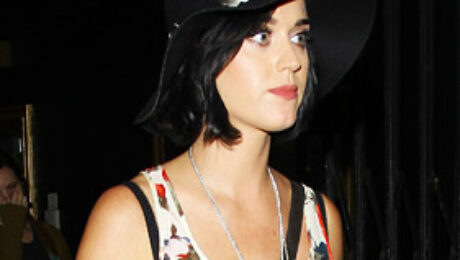 Spotted Monday in L.A. at an xx concert, Katy Perry had ditched her technicolor hair for her classic black. This past year we have seen her with every hair color imaginable from blonde, red, blue, pink, and the list goes on. Katy Perry was also seen with darker hair for her new ad campaign for Pop Chips.
In an interview with MTC earlier this year, Katy's stylist, Rita Hazan explained the sudden craze with unexpected hair color "Some of the '80s is back, those vibrant colors and neon colors. I think girls are a little more relaxed into bringing their inner self out, their inner crazy," she said. "It's not so structured, [like] you have to be pretty and fit into this mold. I love women embracing their inner crazy and making it work for them."
Hazan said, "There are no rules, and it doesn't seem like it's organized or styled. Each person has their own individual personality and they rock [it] and it works for them. It's nice to see women embracing themselves in that way."
Clip-in hair extensions are a great way for clients to express themselves (much as Katy Perry has been doing this past year) without the damage of dying their hair repeadetly. It also allows them to try out a neon or vibrant color without having to fully commit. Clip-in hair extensions by SO.CAP.USA can be applied by your client at home, removed at home, and resued at their leisure.
For more information about purchasing She by SO.CAP.USA hair extensions call us at 847-741-5000 or visit us online!
Photo: FameFlynet