Wednesday, 21 August 2013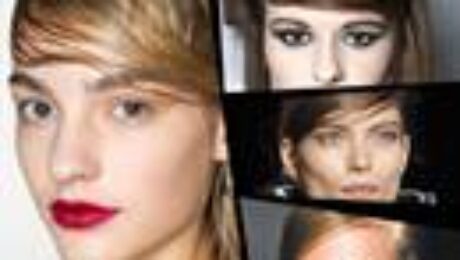 TO FRINGE OR NOT TO FRINGE?
The fringe / bangs hair trend is one that keeps reappearing, but going for a fringe is a commitment that some of us are not ready to make. That's why this trend paved the way for another 2013 hairstyle, the faux side fringe. This hairstyle does not require the use of scissors to get a fringe: all you need to do is to "manipulate" your hair so that some of it sweeps sideways across your forehead. Voila! Instant bangs!
Numerous runways used this technique causing it to become a trend of its own. You can pair a faux-side fringe with any kind of up-do you want from a ponytail to a wet-look chignon, and it can be a great way to flatter your face shape – especially if you have a large forehead – without the need for scissors.

Wednesday, 21 August 2013
The Undone Chignon
Perfect for parties and special occasions, chignons don't always have to be super composed. Charlize Theron has rocked the undone chignon for the past few years now and again and it's incredibly easy to do.
Check out All-Nutrient latest blog post and learn how to replicate this look in 30 minutes or less!
http://blog.allnutrient.com/bid/327752/Updo-How-To-Undone-Chignon