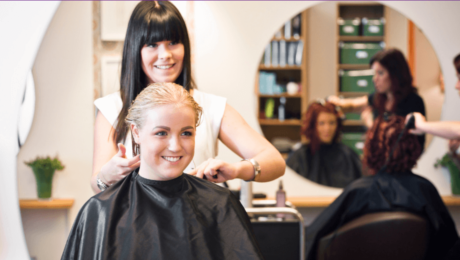 In my last piece, Building An Empire, we spoke about business building. Today, we are talking about maintaining business… and that comes back to the consultation.
A lot of you are tired of hearing me preach about the consultation, and I'm tired of hearing myself, but it's an absolute must. So many issues would be resolved if the consultation was done correctly from start to finish.
Instead, with all the things that need to get done, we forget that a consult comes down to 2 things… Choices and Options.
Choices and Options
Do we really understand the difference between choices and options? Language is so important, and yet here we are killing the language. It has become too easy to say "Whatever, you know what I mean," and move on… but it's not whatever.
For a hairdresser to say that whatever phrase during a consult or when mistakes happens, it's a death sentence to a client's ear. It puts the client in a position of feeling like they are stuck with what they have, and even if it's fixable they have mentally checked out. Instead, they are scrambling to figure out what to do on their own, and that is even more dangerous… when a client tries to fix stuff on their own, it only gets worse.
Mr. Webster, what are choices and what are options? Options are the things that are available for us to choose from. Choices are the actual actions chosen from the things available. Those definitions sound pretty similar, but it couldn't be further from the truth when it comes to clients, services, and consultations.
When does the consultation begin and end?
Most would answer, "When the client first walks in and sits down, you begin the consultation by discussing what service are to be performed. Then the consultation ends and you start."
That's what most people think but absolutely not! The consultation starts the second the client walks in and ends when the client walks out the door. The entire appointment is a consultation!
We make so many choices for our clients that we forget it's not our job. Our role in the stylist-client relationship is to give the client every option in the world and let them choose.
It's impossible for us to know exactly what they want, are thinking or are feeling. We can estimate based on conversation in that moment, but that can be fleeting. We have to do their hair today for tomorrow.
Making Choices
A client walks in, sits down, says hello, we ask what they want, they show us pictures, describe their idea, everyone agrees and you start the service.
Let's say for example that this client is getting her hair colored. She asks if she needs a pull through to refresh the ends. Do you look at your watch, see that you don't have time for that and tell her something like "Awe, you're fine, it's supposed to look a little lighter on the ends, we can do it next time if you feel it's too light." YOU just made a CHOICE for THEM!
You decided that they don't get the ability to decide what they want for themselves. In turn, your client is getting the wrong message and from their perspective…
Maybe they feel like they shouldn't of asked such a question.
Maybe they feel doubtful of the situation and wondering if they want to look lighter or darker on the ends.
Maybe they feel relieved that we are in charge and know what's up.
Maybe they feel angry that we dismissed their question.
From the stylist side…
Maybe we are running behind and we are scared of the next client.
Maybe they really didn't need anything.
Maybe we think that they don't know what they are talking about.
Maybe we didn't feel comfortable doing it this time because we assumed they would think it was too dark.
That's a whole lot of maybes!
Maybe is a Possibility
A possibility may or may not happen. Who are we to decide that? Imagine going to a restaurant. No booth or table choice and you are immediately brought to and sat somewhere. No offering of water or drink, the server just brings over a cup of something and plops it down. No menu, the chef whips something up and there you go … eat. Here's the bill … pay. Your head would explode! Is that too much of an extreme example? No, it's not.
A Menu of Options
We need to provide a menu of options for clients to choose from. We can explain the options, we can advise what we think the better options are, we can try to guide them towards good options that we would like to see, but ultimately let them make the choice themselves. Now they own it and feel more attached to protecting that decision.
Ever have a client come and say "I know this is what I asked for, but I think it's a little too much" Would you please help me tone it down? That usually happens with haircuts. They want it a little longer than we suggest, they look at it afterwards and realize we were right. They are not upset about it but rather very nice about the whole situation. They even are grateful you took the extra time to redo it for them. Sometimes they even give a little extra tip just to show the appreciation and to acknowledge the fact that they took up more of our time.
Choices vs Options
Options are great things to have. Choices are hard to make. Using this to our advantage we could come up with things that will only help increase our business and bring it to the level we want. Making the choice for your client only handicaps your own ability to grow, get more referrals, or build your ticket up.
Options will keep your clients coming back for more because it feels like a game show where they keep winning. They get to choose what to take home with them!